Photos & Trivia
We are also on FACEBOOK - http://www.facebook.com/pages/Ballygowan-Concert-Flute-Band
2019 Flute Band Association Entertainment Contest

The Douglas family with the Best Band Trophy (details on Band News page)
2019 Flute Band Association Own Choice Contest winners
Band President Dougie Gourley receives the 2018 World Flute Band Championship trophy from N.I. Bands Association George McFadden at the annual N.I.B.A. Dinner and prize distribution.

Andrew Douglas receives the 2018 Interpretation trophy on behalf on Conductor Stephen Cairns, and also the Percussion prize.
Two photos taken at the joint concert with 1st Old Boys Silver Band on 15 June 2018
Here's an oldie! Let's hear from you: names, where, when?
2017 NIBA ANNUAL DINNER
Dougie Gourley receives the winners trophy from Association President George McFadden

Conductor Stephen Cairns receives the Interpretation trophy

12th of July 2017 in Ballynahinch - what a great day it was. Photo: courtesy of Newtownards Chronicle.
1947 Belfast Parks schedule - It's doubtful if any current players were there!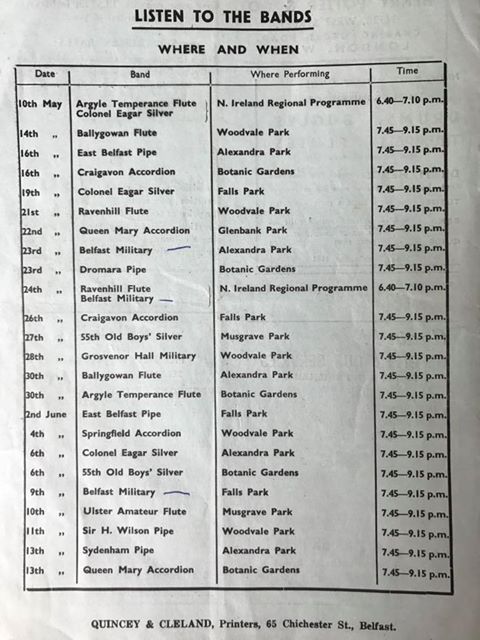 Tori & Laura with the 2017 Best Performance plaque in the inaugural Entertainment Competition
Laura, Andrew, Tori, Uncle & James enjoying the success
Eric McMillan, formerly of Ravenhill and originally of CLB has joined our ranks. His first public appearance with us was the Scottish Amateur Band Association's Spring Contest in Troon, May 2017. Welcome Eric - we trust you will have a long and happy time with us.
Rebecca Thompson receives the winning trophy, certificate and cheque for the 2017 Flute Band Association Own Choice Contest from FBA President Dougie Gourley.
Here's a blast from the past.The late Billy Davidson buttoning up his tunic!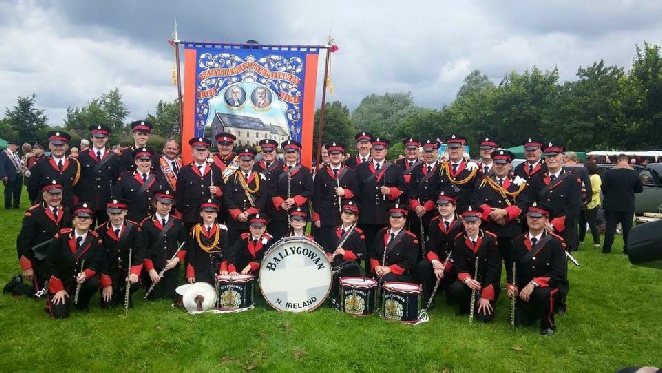 Chairman Stephen is now skilled to play flute or percussion!
Richard Douglas receives the Trevor James Concert flute after the 2016 Flute Band Association's Own Choice Contest. The flute was presented to the winning band in the Championship section by John Seabrook of Trevor James.
John Dawson collects the 2015 second place certificate from the President of the Northern Ireland Bands Association, Margaret Campbell at the annual presentation of prizes.

Photos from the 2015 Big Flute Challenge at The Whitla Hall, Queens University Belfast. This was the second year of the event which raises money for Marie Curie and the Children's Hospice charities. Special guests this year were Sir James and Lady Galway. A great day was enjoyed by everyone with good music and craic.
From top:
Stephen Cairns, Susan Denvir, Stephen Carse, Laura McBride, Drew Vincent, Audrey Spratt
Stephen Carse, Mark Douglas, Stephen Cairns
Sir James Galway
Mark Douglas, Darren Canmore, Brian Kerr, Steephen Carse - click here for more photos
Bringing Christmas cheer to Victoria Square, Belfast (2014)
All
Andrew & Richard
Suzie
Stephen
Harry
Drew
John & Ben
Harry & Libby
Mark & Richard
Lauren & Tori
Stephen & Brian
Ronnie, Robert & Geoffrey
Photos from 2014 NIBA Annual Dinner & Presentation of Awards (resp. Best Band, Best Interpretation, Best Percussion, Best Piccolo, Best Solo Alto)
Winners trophy
Interpretation trophy
Precussion trophy
Solo Alto trophy
Piccolo trophy
2014 NIBA Championship (before & after the winning performance) - Click for even more photos


The Big Flute Challenge took place on 13 September 2014 in The Kings Hall Belfast, and, although the Guiness Record was not broken, it was a truly wonderful event.
Photo 1 of 10
Photo 2 of 10
Photo 3 of 10
Photo 4 of 10
Photo 5 of 10
Photo 6 of 10
Photo 7 of 10
Photo 8 of 10
Photo 9 of 10
Photo 10 of 10



On 17 April 2014, the Band was invited to a reception in the Mayor's Parlour to celebrate our success in retaining the World Championship for a third successive year.
Left-to-right
Seated: John Douglas, Mayor, Councillor Stephen McIlveen, Stephen Carse (Band Chairman)
Standing: Richard Douglas, Andrew Douglas, Sarah Bass, Matthew Gourley, James Douglas, David Mays, Alderman Robert Gibson, Geoffrey Gourley, John Dawson, Victorias Gibson, Mark Douglas, Stephen Gibson, Audrey Denvir, Brian Kerr
Trophies: City of Dublin International Festival Trophy, World Flute Band Championship, Piccolo prize, Percussion prize.
Energy Institute Friday 21 March 2014 Annual Dinner (Titanic Quarters, Belfast)
A large Ballygowan contingent attended the NIBA Annual Dinner & Presentation of Prizes on 14 November 2013. It was held in Tullyglass House Hotel, Ballymena, and a great night it was. We shared transport with our Ballylone friends and neighbours, and the craic on the bus added to the fun..
John Dawson collected the Winner's Trophy, certificate and medals
Steven Cairns lifted the Interpretation Prize
Piccolo Prize winner Andrew Douglas was playing in a concert elsewhere, so his Dad Mark collected the trophy on his behalf.
Steven Carse collected the Percussion Prize
Laura McBride went up for the Best of the Day performance
Altogether, a great day at the office on October 12. Margaret Campbell, President of the Association presented the trophies.
At rehearsal, prime mover of the Saintfield Harvest Festival Edward Craig takes up his first opportunity to conduct a flute band
World Championship, Market Theatre, Armagh, 12th October 2013. It was a case of three successive wins with three different conductors - that's not been done in this contest before! It's not that we strive to turn over conductors, but then again we did win the Portrush Masters Contest four years in a row with four different conductors!
Playing
Taking a bow
The 12th of July 2013 will go down as one of the hottest on record, so Ballygowan took the decision to leave the heavy serge jackets behind - that's not all that was left behind - one of our number lost the sole of his shoe in the melted tar!!
Some photos from Crawfordsburn Masonic Dinner (January 12 2012). Representing the Band were John Dawson, Andrew Douglas, Robert McMurray, Stephen Gibson, David Mays, Dougie Gourley, Brian Kerr, Victoria Gibson, Mark Douglas, James Gourley.
Andrew, Davy, John, Robert, Stephen
Andrew & Robert
Davy, Dougie, Tori, Mark, James, Vrian
Tori
James
Stephen collects the 2012 World Championship Best Performance Trophy
Tori and Dougie with the Best of the Day Trophy (NIBA 2012)
Andrew receives the Interpretation Trophy on behalf of Colin Fleming (2012 World Championship)



Music From The Masters Band Contest, Portrush. The contest ran for twenty years, and on the last occasion, the organisers were kind enough to tell us that Ballygowan was the only Band to enter every single year. They added that we were the most successful band during those years and the most innovative - indeed Jean Douglas received a special award for her input into Ballygowan's antics during those years!
At the 2012 Flute band Association Annual Dinner, recently elected Chairman Stephen Carse lifts the winner's trophy and framed certificate. Below is Conductor Windsor with his wife Isobel. Windsor is holding the trophy for Best Interpretation which he gets to hold on to for a second successive year. Below that is Audrey Spratt, Tori Gibson and Libby Douglas with the evening's trophy haul, and Stephen is pictured with Mark Douglas who arranged the test piece Cappriccio Espagnol.
Windsor receives the Interpretation trophy at the same event.
Audrey, Tori & Libby show off the evening's silverware.
Mark & Stephen enjoying the atmosphere
2011 BBQ photos
Mark, Libby & Tori
Laura & Audrey
Jean & Rod
Mark, Laura & Rod
Davy, Rose & Lorraine
Andrew & Tori
Alan & Davy
Harry Moore & Tori
The Dinner Party at the 2011 NIBA Presentation of prizes.
Tuning up before playing at the 2011 World Flute Band Championship
Sadly, former solo G-treble player Roy Gourley (left foreground) passed away in February 2011 after a long period of illness.
Playing in Ormeau Park, Belfast. James Gourly is conducting - you can listen to John Phillip Sousa's March Stars and Stripes Forever featuring Andrew Douglas on the piccolo at http://www.youtube.com/watch?v=9cnvmSnwqUA
A moments relaxation between hymns as the band performs at the platform on 12 July 2010 in Ballygowan
Musical Director Windsor Hylands' retirement party photos - see Band News page.
Windsor & Isobel
Isobel
Windsor & Isobel
Sarah & Laura
Dougie & Sadie
Jane
Sharon
Brian & Leanne
Bob & John
Jim & Sylvia
John, Jenny & Jean
Sadie, Margaret & Rose
Stephen & Tom
James
Above:
Laura McBride & Sarah Bass, Windsor & Isobel Hylands, Sadie Strain (President) & Dougie Gourley (Chairman), Jane & Joanne Gourley, Sharon Gourley & Heather McCracken, Leeanne & Brian Kerr, John Presho & Bob McMurray, Sylvia Presho & Jim Gourley, John & Jenny Dawson and Jean Browne, Sadie McMurray, Margaret and Rosaline Gourley, Stephen Gourley & Tom Gourley, Rod Kerr & James Gourley.

Ballygowan F.B. invited to play for Royalty at a Garden party in Hillsborough Castle. Representing the Royal Family that day were H.R.H. Prince Charles and Camilla, Duchess of Cornwall. Conductor Dr. Windsor Hylands and James Gourley are the ones in conversation with Charles.
Lord & Lady Dixon Park (Belfast 2007)
12th July 2008 in Ballygowan
In April 2006 the Ballygowan Flute Band was invited to play at Rotary International's UK-wide Conference in the Odyssey Arena , Belfast. This was the first and only time that Northern Ireland had hosted the event, and the purpose of our invitation was to give the delegates a flavour of Northern Ireland's cultural talent. The band "played in" the Colour Party and then gave a 20-minute concert - which went down very well indeed with the Rotarians and their guests
click for photo.
From left: Back row:
D. McCracken, D. Coyle, D. Canmore, S. Carse, J. Gourley, R. McMurray, A. Anderson, G. Stitt, D. Mays, M. Douglas, R. Douglas
Middle row:
B. Kerr, N. Dickson, K. McKnight, S. Adair, D. Knott, J. Gourley, L. Gourley, S. Denvir, K. McGregor, A. Spratt, C. Kerr, J. Herron
Seated:
J. Gourley, F. Browne, T. Gourley, D. Gourley, W. Hylands (Musical Director), J. Douglas, J. Dawson, S. Gibson, A. Robinson, A. Douglas
Ulster Hall Belfast World Championship 2003
Photos galore from Scotland 1990
One for the road
Audrey & Julie
Andy's buying
Sadie, no, we didn't bribe the adjudicator
Out for a stroll
Mark with cups
Davy
Andy with cups
Whoa
Taunting
Oh, the hair!
Watch those cups
Andy & Robert
Role reversal
Audrey & Barbara
Nice cup!
Girls galore
Robert & Lorraine
Hooray
What's so interesting?
Man with bare legs
Cheer leader Davy

1990 Photos from the Lord Mayor's Parade, Belfast


A proud Robert Mannis lifts the Band's first World Flute Championship Trophy at the N.I.B.A. Presentation Dinner in 1990.


12th July 1985 in Comber (Centre - Bob McMurray, left - John Dawson, right - the late Harry Carse)
Strictly a family matter - the late Bob McMurray with his daughter Barbara and son Robert



The late Harry Carse and Marty McMinn (both awarded a 50 year medal in 1982)
NIBA Contest 1989. Conductor Brian Houston guides Ballygowan to their second successive second place. Brian conducted his first rehearsal in Ballygowan on 01.09.83, and the band's first engagement under his baton was a Bandsman's Service on 25.09.83. It is no secret that the band was in the lower rungs of the Flute Band League's senior section when Brian arrived. When he moved on, the band was in the top three - including wins in Scottish Own Choice (1989) and in the Flute Band League Own Choice Championship (1990), followed by becoming World Champions in 1990..
Late 1980s in Newcastle
(from left):
Seated: J. McKnight, J. Houston, S. Denvir, J. Burke, K. McDonald, C. Strain, B. Houston (Conductor), A. Spratt, L. Dawson, B. McMurray, M. Houston, I. McBride
2nd row: L. Gourley, A. Davidson, G. Gourley, R. Gourley, J. Gourley, R. McMurray, J. Gourley, R. Gibson, J. Dawson, H. Carse, J. Gourley
Back row: N. Denvir, J. Presho, J. Douglas, M. Douglas, R. McMurray, D. Gourley, B. Kerr, R. Mannis, D. Denvir, A. Robinson
Trophies: taken in Ballygowan - from left
Seated: L. Gourley, A. Denvir, B. McMurray, J. Gourley, K. McDonald, P. Nellin, S. Denvir, M. Houston
Standing: G. Gourley, R. Gourley, J. Presho, R. Gibson, J. Dawson, J. Douglas, R. McMurray, H. Carse, R. Mannis, B. Houston, N. Denvir, J. Gourley, R. McMurray, G. Gourley, A. Davidson, J. Gourley, M. Douglas, A. Robinson, D. Denvir
12th July 1987 in Castlewellan


The Young Musician of the Year trophy was presented to the band in 1987 by Derek Denvir, and John Dawson added the roll of honour certificate. We don't know where these are!!
Isle of Man 1984 Star of Burma Remembrance Service
April 1984 leading the Youth Organisations to their annual church service
The Bandroom's first central heating system was switched on for the first time on 02.02.84
Photograph taken in Ballygowan (probably early 1970s)
Drum Major: D. Gourley, Bass Drum: H. Moore
Side drums: (from left) J. Presho, R. Gibson, B. Mannis, K. Rodney
Flutes from left and front
R. Carse, D. Denvir, R. Gourley, J. Strain : : J. Canmore, W. Ross, S. Evans, G. Douglas : : D. Carse, H. Carse, T. Ellison, B. Davidson : : R. Douglas, N. Denvir, J. Douglas, D. Douglas : : M. McMinn, B. Strain, J. Gourley, J. Watson
Impromptu rehearsal - a long time ago!