SCRAPBOOK
Adjudicator's remarks for the 2019 F.B.A. Own Choice Competition: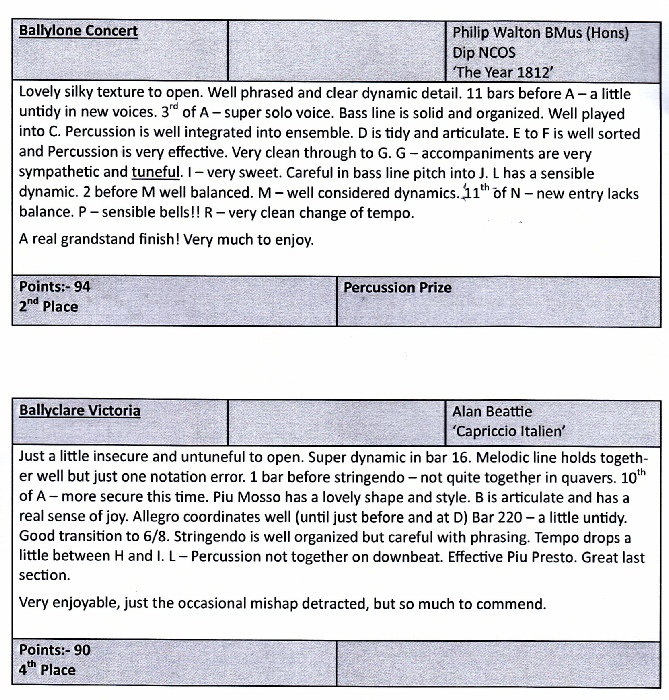 Adjudicator's remarks for the 2018 N.I.B.A. World Flute Band Championship (Ballygowan):


Adjudicator's remarks for the 2017 N.I.B.A. World Flute Band Championship:
Ballyclare
Ballylone & Ballygowan
Ballymena & Hamilton
Hunter Moore
12th of July 2017 in Ballynahinch - what a great day it was.
2017 Flute Band Association Entertainment Contest March winners certificate
Three photos from the 12th in Clough 2014
01
02
03
John & Sylvia celebrate 50 years of wedded bliss
Flags & Emblems Concert with the Ulster Orchestra (October 2012)
Composer Ian Wilsonn wrote:
Dear John,
Thanks for your email. I was going to write to the band myself and say how pleased I was with the performance and how grateful I am for all the work you all put into learning and playing the piece. I think it was a great success and I heard only very positive things from audience members afterwards. I think the band made a great impact - musically of course but also visually - and I'd be grateful if you could pass on my thanks and good wishes to everyone.
All the best,
Ian
John had written:
Thank you Ian for the experience of working with you on this project. It\'s something we will always treasure.
12th July 2012 in Ballynahinch - Band - Dougie
Mayor of Ards Councillor Mervyn Oswald presents
Commerative plaque to Band
Commerative plaque to Andrew (with Dad Mark, Mum Libby & brother James)
Andrew wins the 2012 Northern Ireland Young Musician Competition
Band wins the 2012 Own Choice contest
Happy winners
Andrew wins Blair Mayne bursary
Andrew's story (Yes, the Pipe Band reference is a typo!)
Clean sweep at 2011 NIBA World Flute Band Championship
12th July Comber 2011 leaving the field
12th July 2011 Band
12th July 2011Bob McMurray
Harry and James Douglas with Mayor of Ards Councillor Mervyn Oswald before the 2012 Ballygowan Community Association Christmas party.
2006 NIBA participation acknowledgement on the eve of the NIBA's centenary year
Two all-time greats: Sir James Galway helping to celebrate Donald Sloan's 100th birthday
John Dawson after receiving his 50 year medal
Two reports on the 2003 Own Choice Contest (Ulster Hall)
2001 Flute Band League winners
Photo taken in the bandroom shortly after winning the March 2001 Own Choice Contest
From left: Brian Kerr, John Douglas, Chris Kerr, Darren Canmore, Victoria Douglas, Robert McMurray, Geoffrey Gourley, David McCracken
Some photos from our 125th birthday (2001)
125_young & older - 50 year medal holders John Douglas, Chairman Dougie Gourley, Robert Mannis, with Christopher Gourley, Jason Heron, Christopher Kerr
125_cake - cutting the cake are Tilda Stevenson (centre), Sadie Strain and Chairman Dougie Gourley
125_old photos - John Douglas pointing out one of the oldest photographs

May 2000 - Ballygowan presented with a framed photo of the Band at Civic Reception

October 1999 5th world title
March 1999 - Own Choice title retained
1998 Own Choice - clean sweep
1998 Seapatrick's 125th birthday celebrations
1988 NIBA World Championship Flute Band Championship
1997 12th in Newcastle
1997 Brian & Leanne meet Royalty
1997 Music of the Masters, Portrush
1997 tribute to the late Harry Carse
1996 - the Band's best ever year (final leg of the clean sweep of all prizes - see "1996 vintage" report in our History page)
1995 - Brian, Mark & Darren meet the Queen Mother
1994 tribute to the late Jim Strain
1993 NIBA World Championship Flute Band Championship
1989 NIBA World Championship Flute Band Championship
1989 SAFBA Spring Contest in Airdrie
50 year medals & gold watches for Billy Davidson, Harry Carse and Marty McMinn - also pictured is Band President Alice Gourley
Annual Dinner in Davidsons, Ballygowan
1988 - for the first time since 1946 and only the third time ever, Ballygowan finished in second place in the World Flute Band Championships. The test piece was Capriccio Espagnol by Rimsky-Korsakov. What a chain reaction that started!
1984 Isle of Man - another report
1984 Four good men travel with the band to Newcastle in 1984. From the left, Richard (Dick) Douglas who played the piccolo for years, and until shortly before this photo was taken, had been conductor for some 20 years. William Strain and Martin McMinn separate Dick from brother Tommy, who moved to Banbridge in 1930, and made a telling contribution there as conductor to the Conservative Flute Band and, when they changed their instruments, to the Banbridge Silver Band. As a young lad, Dick Douglas once received a standing Ovation after playing a difficult piccolo cadenza in the World Flute Band Championship in the Ulster Hall Belfast. Our conductor at the time the photo was taken was Brian Houston.
1983 Dedication of new uniforms
Billy Davidson receiving his new uniform from Band President Mrs. Alice Gourley
Order of service
01.09.83 Brian Houston conducts his first rehearsal in Ballygowan. The band's first engagement under his baton was the Bandsman's Service on 25.09.83
1979 N.I.B.A. World Flute Band Championship: Harmony after a note of discord
1976 Centenary year: Diane Gourley and Robert McMurray make their debut
1959 N.I.B.A. Adjudicator's Remarks_Cover page
1959 N.I.B.A. Adjudicator's Remarks
1952 departing for the Festival of Britain
M.McMinn, Wm. Cooke, Wm. McMurray, Wm. Scott, John Carse, F. Corken, J. Strain, B. McMurray, G. Douglas, R. Douglas, D. Gourley, J. Douglas, Bob Carse, H. O'Neill, T. Ellison, J. Curran, (Drums) W. Hanna, T. Gourley
1946 World Flute Band Championship report in the Brass Band News